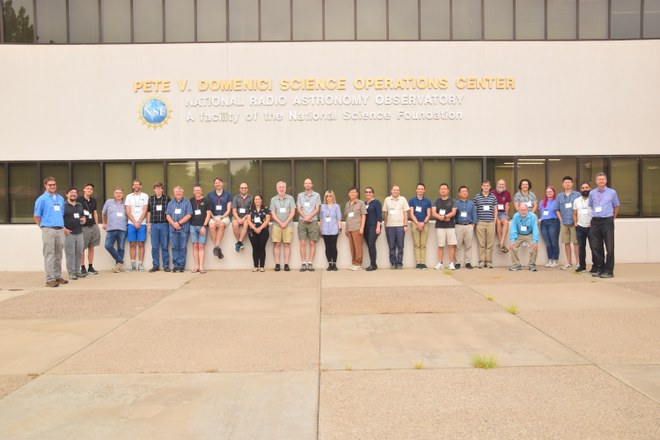 15th DiFX Users and Developers Meeting 2023
Jakob attended the "15th DiFX Users and Developers Meeting" in Socorro, New Mexico, USA, from September 11 to 15, 2023. This annual meeting is for the future planning, improvement, and documentation of the high-performance DiFX software. The Vienna Correlation Center uses DiFX in its operational and scientific work to process (correlate) raw VLBI data. The meeting was hosted by the National Radio Astronomy Observatory (NRAO). It was attended by more than 30 participants in person and many more online from 19 different international scientific institutes and agencies. Jakob gave a 30-minute talk on VGOS correlation at the Vienna Scientific Cluster and simulations of VLBI raw data. Some highlights of the many great talks were from H. Rottmann on energy efficient processing using SLURM at the Max-Plank-Institut für Radioastronomie in Bonn, from W. Brisken on the new developments of the DiFX simulation tool of VLBI raw data, from H. Ueshiba on automated correlation at the Tsukuba correlator, from J. Skeens on a combined interferometer approach of VLBI and GNSS data, and from A. Deller on the use of GPUs for VLBI correlation. In addition to the presentations, there were panel discussions on relevant topics such as the switch to GIT for version management of DiFX code.
We at Vienna Correlation Center are pleased to host the next DiFX Meeting 2024 in Vienna and look forward to many great presentations, interesting panel discussions, and a productive DiFX hackathon.
Picture: NRAO